Driving Campaigns
Big Screens On The Go is the only digital mobile billboard company in the U.S. offering full-time, driving campaigns, and daily service. Our digital billboard trucks are on the road 300 hours per month with service currently available in: Chicago, Dallas, Austin, Detroit, Houston, Las Vegas, Atlanta, New York, Los Angeles, Miami, Orlando, and Indianapolis.
---
"It is incredibly cost-effective compared to other forms of marketing. We were able to get the ads up in one day and start generating leads. It has been a great experience."
– Sarah Sherman, Leukemia and Lymphoma Society, VP of Marketing Sponsor
Unlike traditional billboards and billboard trucks, our digital billboard driving campaigns trucks provide clients with unmatched benefits, including the ability to get your brand (and endless tailored messages) in front of: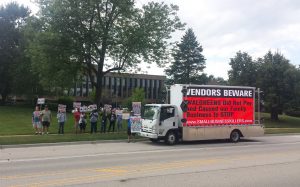 Rush hour traffic in the morning
Tradeshow/convention attendees in the afternoon
Happy Hour/after work crowds during early evening
Then catch the eyes of concert-goers and sports fans as they leave the venue… all in one day! For more information about driving campaigns, our large screens for your events, and our jumbotron rentals, you can contact us!
---